The Isle of Wight is becoming very popular with cyclists due mainly to the railway lines which were abandoned 40 years ago having been developed into cycling paths. There are various other on and off road routes. All of them are documented here.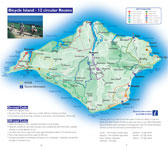 At Knights Rest we are located close to the Sunshine Trail which is so called because is passes along a route comprising cycle paths, fields, bridle ways and roads which reputably enjoys the greatest amount of sunshine in the country.
We provide secure storage for bicycles and cyclists are most welcome.

An overview of the cycling routes is available for download here.
Some routes to view: